Productivity & Mobility
With Microsoft 365, your team can use the same suite of Office tools they're used to--Outlook, Word, Excel--while leveraging the benefits of a cloud-based system that can be accessed wherever they need to be. With apps for Windows, iOS, Android, and Mac, Microsoft 365 enables your team to work wherever and whenever they need to.
One platform. One family of Office applications. All communicating seamlessly, and accessible from anywhere.
Measurement & Monitoring
"If you can't measure it, you can't improve it"
We agree with Mr. Drucker. Yet, often the challenge is getting to that data and presenting it in an understandable way.  Whether you're interested in security and usage data from the Microsoft 365 Trust Center, or combining sales and production data into a Business Intelligence Dashboard with Power BI, Microsoft 365 has a solution for you.
Report on data organization-wide, and make decisions easily, then display the results in a way that makes sense for your entire team: from the production floor through to the C-suite.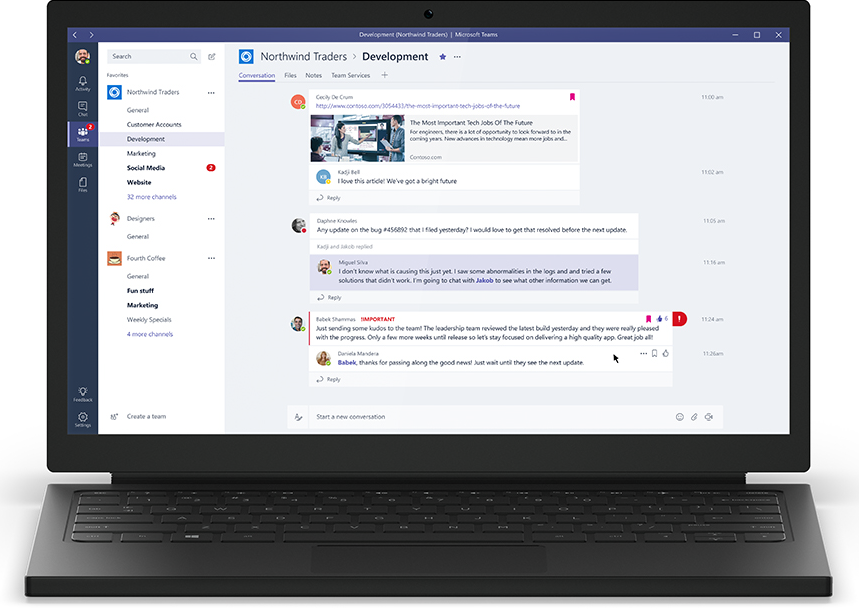 Security & Compliance
From in-place eDiscovery, to hold and retention policies, to logging and reporting on vast numbers of user and admin events, to ever-evolving security improvements, Microsoft 365 helps your organization stay secure and compliant, while reducing burden on your IT staff.
Whether you need tools to help you comply with FERPA, HIPPA, PCI, or some other standard, out-of-the-box Microsoft 365 security and compliance functionality helps you manage access, data, and users, while decreasing costs and risks.
Continually expanding capabilities help you quickly meet threats and investigative, legal, and regulatory requirements.
Interested in Learning more? Contact Reyna ITS 
A successful Microsoft 365 Implementation requires knowledge, experience, and a well-thought-out process. At Reyna ITS, we have all three. Fill out the form to the right to learn more about working with us.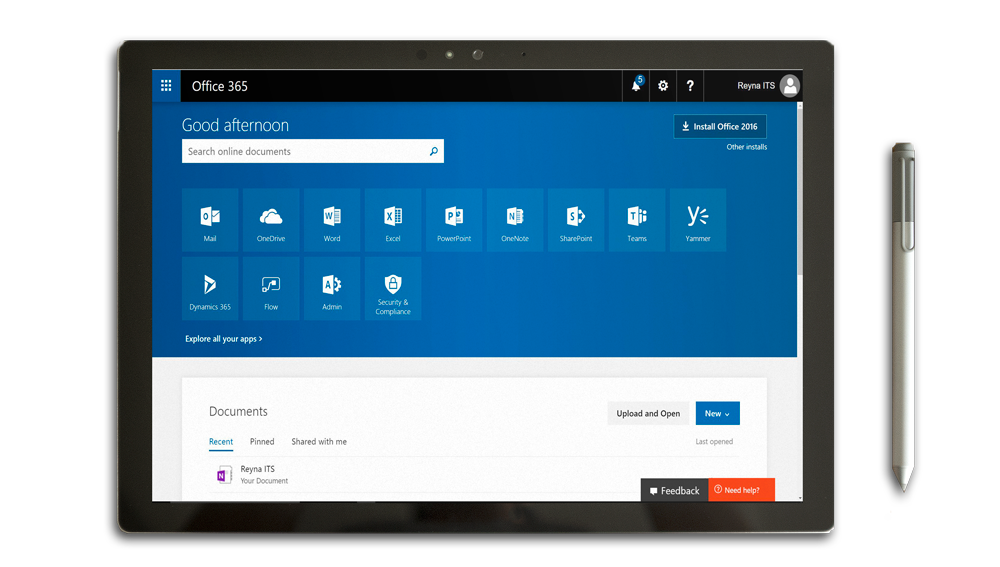 Collaboration
Modern business teams communicate constantly. Shouldn't the tools you use support that?
Collaboration is how small organizations achieve big things. Don't let outdated email, data, and knowledge sharing solutions get in your team's way. Microsoft 365 makes collaboration easier and more fluid with a suite of integrated apps and services that remove barriers and empower teams to do and achieve more.
With Microsoft Teams, Microsoft 365 provides your team everything it needs to work together: Team work spaces, chat, meetings and calendars, co-authoring and sharing files securely, group email and much more. All in one place. All on one platform.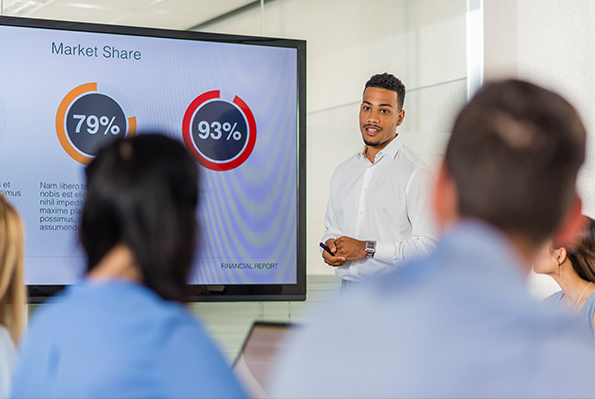 Community
Do your staff know the story and mission of your organization? Can they stay up-to-date with the daily effort and achievements, small and large, that their colleagues put in?
The people who make up your business shape your company. Make sure all of your organization know what's going and is able to tell that story with community-building tools in Microsoft 365. From full-blown Intranet portals with SharePoint, to ad-hoc collaborative spaces with Groups and Teams, Microsoft 365 offers you a way share and capture the content your team needs to tell those stories.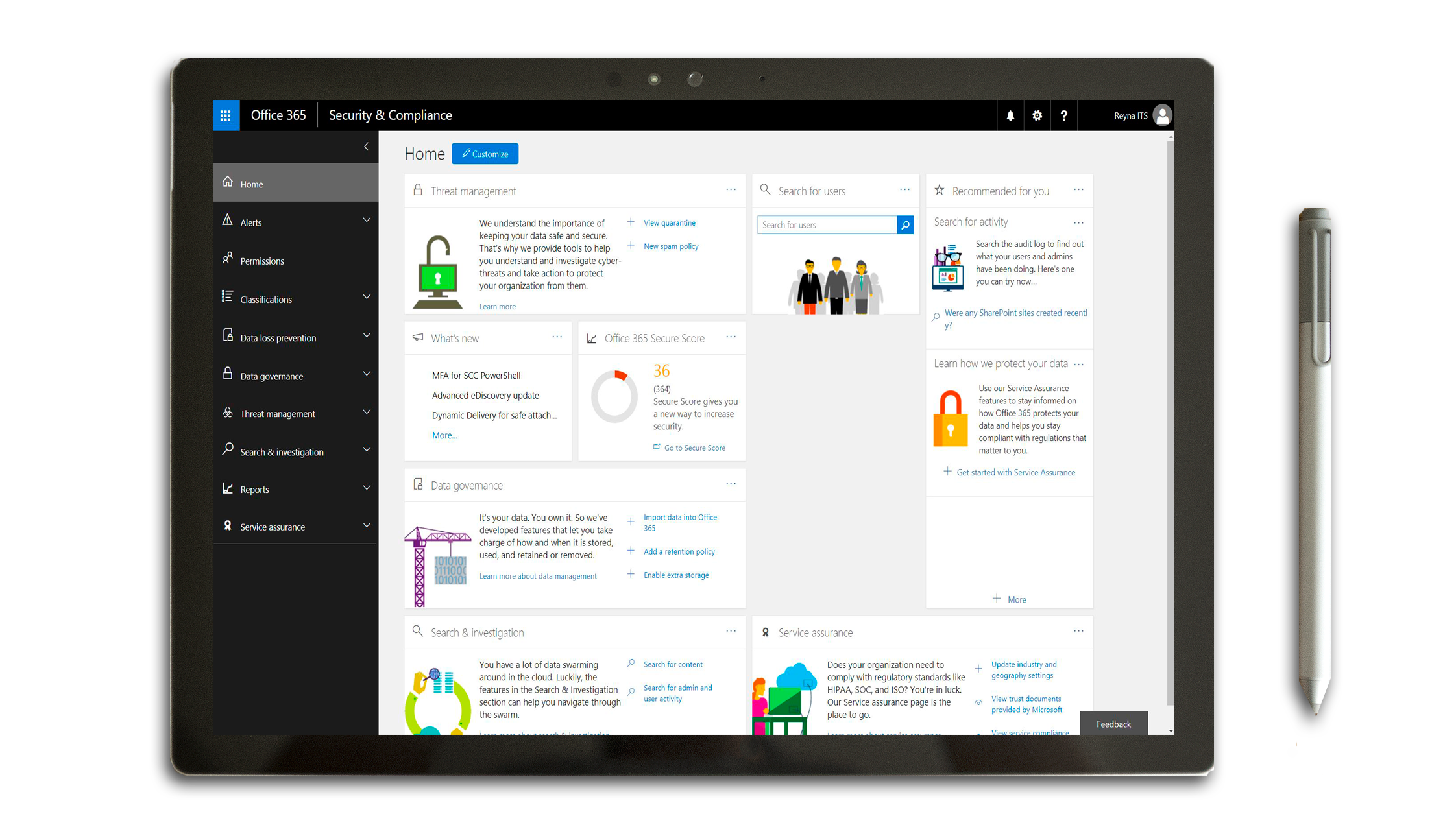 Change & Preventing Obsolescence
How does your organization view change? Is it an opportunity, or a hurdle? Ensure it's easier with a productivity and communications suite that doesn't hinder you in navigating the sometimes stormy seas of change.
Whether it's on-boarding or saying goodbye to staff, a software update, shifting marketplaces, or simple (Oh, so simple!) growth, Microsoft 365 helps you navigate change with easy-to-use tools to manage data, people, and the digital footprint they leave behind. With Microsoft 365 you can ensure that your users are running the most recent version of the Microsoft Office suite, and forget about incompatibilities and obsolescence. User-managed installs and licensing for 5 devices per user mean the days of managing license keys and installation are gone.